ASSIGNMENT
We launched our cooperation with Grandhotel Pupp in January 2019 with the preparation of a new digital strategy. We introduced to the client completely new communication for social media channels (Facebook and Instagram), as well as performance and brand campaigns, not only to increase website traffic but especially to grow the number of bookings made directly on the website. Another important goal was a gradual introduction of the revitalization of the hotel.
APPROACH
We conducted a review of the existing social media channels and set up a new content strategy, supported by regular post boosting. The strategy also included click-through campaigns on Facebook and Instagram.
In the next phase, we set up search and banner campaigns within Google and Seznam Ads. Due to the fact that many guests are foreigners, we continuously direct each channel's message and character to different nationalities and we periodically test audience targeting.
During the six months' communication, we achieved maximum awareness of the hotel and the changes (with the help of PR communication). Following this, we began to establish cooperation with Czech and foreign influencers who aim to subtly present the hotel and its premises (rooms, wellness, activities). As a representative of Czech influencers, we can mention Michaela Jonas who spent the weekend at the Grandhotel Pupp in the spring of 2019:
Results of this promotion:
938 % increase in IG profile views
o 3 307 % increase in web clicks
The hotel has magnificent interiors, exteriors and its history is no less interesting. Countless cultural events take place here and therefore we base the content for social media primarily on these topics, in addition to the standard promotion of hotel packages, spa, wellness, etc.
We also went through a complete rebrand with Grandhotel Pupp. People respond very well to the visualization of photographs not only on social media but also in display campaigns.
Below are the top posts when it comes to reach and number of interactions: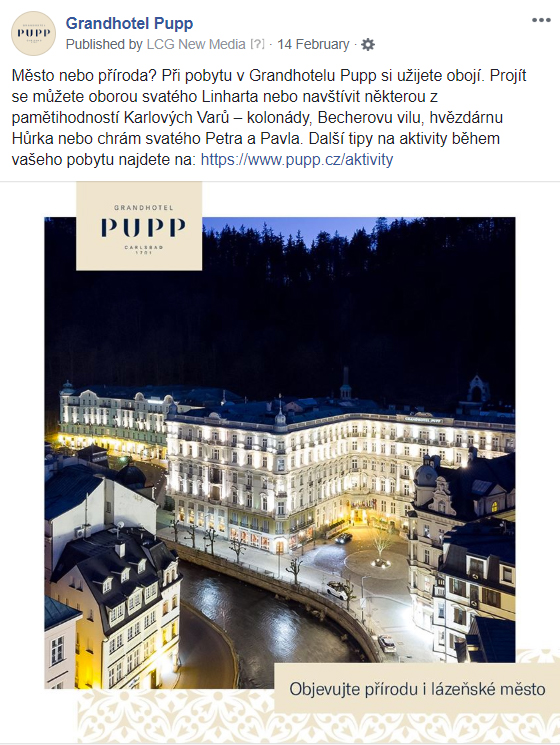 Instagram fans respond very well to stylized photos, see some examples below:
RESULTS
Below are the results for July – December 2019 where we recorded the following increases in values:
Facebook
Year-on-year increase in interactions by 50 %
Instagram
200 % increase in Instagram user reach
Web
Year-on-year increase in visits by 39 %
Year-on-year increase in bookings by an average of 100 %
In the past 2 years, the Grandhotel Pupp brand has been undergoing a change in its positioning from the hotel "for the famous and rich" to a traditional Czech hotel for all those who are looking for quality and comfort. The LCG agency set up the hotel's social media which have become an important communication channel for this change. The main tasks were the introduction of a new visual style and the promotion of hotel services and events. Another major area of collaboration related to online campaign management. What I appreciate most is the detailed evaluation of all the mentioned activities and the responsiveness with which the LCG team always approaches our requirements.

Jindřich Krausz,
General Manager